Michael, Danna, Anna Caroline and John Michael Beale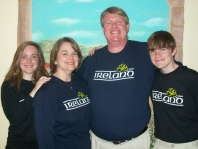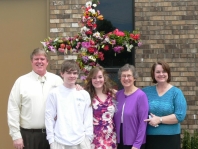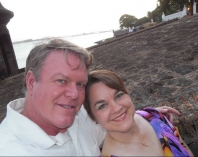 Our pastor is Rev. Dr. Michael J. Beale and his wife and ministry teammate is Danna. They have two wonderful children, Anna Caroline (19 years old) and John Michael (16 years old), ministers in their own right! Having served churches for over 25 years, Mike completed his Doctor of Ministry degree in Church Leadership and Preaching through Asbury Seminary's Beeson Pastor program. His dissertation is weaving its way into relevance at WellSpring and beyond as lives are being changed through the discovery of the link between experiential prayer practices and one's God-given personality. His "ministry sweet spots" are missions, media, communication, and bringing Greek and Hebrew to modern-day relevance. He also loves integrating technology into the life of WellSpring.
Danna, previously blessed to be home with the children for nine years, now serves the community as a kindergarten teacher at Coosada Elementary. You can find her lovingly tending.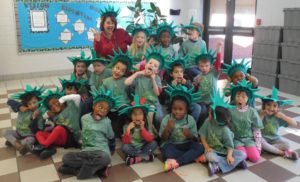 sprouts of all sizes as they bloom where they are planted in the "purple pod's" Garden Patch!  Her passions are encouragement, teaching, designing, gardening, prayer walking, and service.  Our family is passionate for travel, blessed to have visited Ireland twice, Japan, and Puerto Rico in the last four years.  Collecting water from St. Patrick's well outside Downpatrick, Northern Ireland is an experience we will never forget.  Visiting churches in each country gave us a glimpse of what God is doing all over.  We were blessed to see His fingerprints over each of these trips, from start to finish, with every bump along the way turning into a true testimony!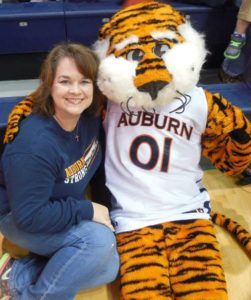 Birthplace:
Mike: Atlanta, Georgia
Danna: Nashville, Tennessee
Anna Caroline & John Michael: Montgomery, Alabama
Stomping grounds:
Mike: Decatur and Conyers, Georgia
Danna: Auburn, Alabama (WAR EAGLE!)
Anna Caroline & John Michael: Montgomery & Millbrook, Alabama (w/one wonderful year in the beautiful state of Kentucky!)
Favorite quote:
Mike: "Set me on fire, and let the world come and see me burn." (John Wesley) Danna: "Die when I may, I want it said by those who knew me best, that I always plucked a weed and planted a flower wherever I thought a flower might grow." (Abraham Lincoln) Anna Caroline: "Make it count!" (Jack Dawson…"Titanic") John Michael: "The truths that we cling to are based entirely upon our point of view." (Obi Wan Kenobi)

Favorite music:
Mike: anything by Chris Tomlin
Danna: Jars of Clay, Chris Rice, Caedmon's Call, the Beatles, too many others to list
Anna Caroline: Third Day, Jeremy Camp, Britt Nicole, Remedy Drive, classical, and anything Celtic or Irish folk!
John Michael: Coldplay, Keane, K-Love…any kind of jazz
Favorite movies:
Mike: "Saving Private Ryan" , "The Matrix", "Facing the Giants", "The Blind Side"
Danna: (classically) "The Shawshank Redemption", closely followed by "The Notebook" (with "Forrest Gump" RUNNING in third!) . I am also a big fan of "The Blind Side" and "Fireproof"!
Anna Caroline: "God's Not Dead", anything Disney
John Michael: "Oblivion"

Life Verse:
Mike: "I am crucified with Christ, nevertheless I live, yet it is not I who lives but Christ Who lives in me, and the life I now live, I live by faith in Christ Who loved me and gave Himself for me." (Galatians 2:20)
Danna: "For the eyes of the Lord roam the earth to strengthen those whose hearts are fully committed to Him." (2 Chronicles 16:9)
Anna Caroline: "He who walks in integrity shall walk securely." (Proverbs 10:9)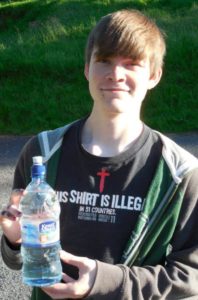 John Michael: "I can do all things through Christ Who strengthens me." (Philippians 4:13)